The 2021 Lumiere Award Winning Cyclops AR is an Augmented Reality app for iOS.  It enables you to visualize CG objects composited into the iPad's camera view in real-time. 
This is similar to simulcam but runs entirely on an iPad. Cyclops can be used during shooting or on a scout to easily visualize the VFX elements of a location, scene, or set in the context of the real world. Since it's running on an iPad it can easily be passed to other crew and cast members so they can be better informed about the VFX action that is being shot.
With Cyclops, you can visualize CG top-ups on your set. You can add any of your CG assets to see how they fit in that space. Additionally, you can load up previs shots and view the previs animation composited into the real location or set to understand how the action will fit into your real-set. As you move around the location, the CG items will track to the real world.
Cyclops has tools to move around, rotate and scale CG assets, save bookmarks, align to the real world, playback animation, adjust lighting, toggle visibility layers, change lenses, save recordings and much more. You can download new content to Cyclops quickly and easily from any location without having to install a new app.
Cyclops 3.3 is the newest release of our iOS AR Simulcam App.  Cyclops 3.3 is a huge release with an incredible amount of new features and fixes, addressing some of our customers' biggest requests.  Cyclops continues to be the most powerful professional iOS Simulcam app on the market. Check out some of the highlights below:
Model Import 
You can now import your own textured OBJ & FBX models into Cyclops.  Imported models can be used as Placeable Assets in Cyclops just like the default assets.    You can learn more about this feature in our Model Import Quick Start Guide.
GPS Alignment
Cyclops now automatically uses your device's GPS & Compass to realign your shot to the real world.  GPS information is automatically saved and reapplied when you load a shot, making it a lot faster & easier to realign shots to the real world. (requires a cellular-equipped device)
Asset Collections
With the new Asset Collections feature you can save & load the position, rotation, & scale of the assets in your scene.  This works in Asset & Shot Modes.  Asset collections can also use GPS Alignment &  World Anchors for increased Asset Mode workflows.
World Anchoring System 
We have continued to improve our World Anchor System and it's now Production Ready.  Use World Anchors to save & load alignment between the real & CG world.  World Anchors are a superior system to GPS alignment and have the added benefit of working well indoors.  (requires a data connection)
Auto Holdout Geo 
We've made more improvements to the auto-generation of Holdout Geo.  This feature allows you to better integrate your CG assets into the real world.  We've add a "fall-off" distance to the auto holdout geo as well as a "Holdout Cut" object that allows you to exclude areas from creating Holdout Geo. (requires a Lidar equipped device)
Lots of minor fixes:
There are also several improvements to performance, rendering, and quality of life in Cyclops 3.3
Click the button below to read about all the features in Cyclops.
We now have a Public Beta of Cyclops 3.3.  This will allow you to download and try out Cyclops on your own.  Click the button to sign up for the Public Beta.

Check out the complete wide range of features in Cyclops
Want to know more? Check out this Highlight reel of things that you can do in Cyclops.  Including some of our work on recent projects.
2021 Lumiere Award
Cyclops was honored with the Technology Lumiere Award from the Advanced Imaging Society (AIS) in 2021. The AIS Lumiere Awards acknowledge technical achievements that are currently accelerating the entertainment industry.
The AIS awards committee recognized Cyclops as a new and exciting technology that was an incredible leap forward from the traditional method of a tennis ball on a stick to visualize VFX elements on-set. They immediately saw the immense potential and usefulness of Cyclops to help make more informed decisions when filming.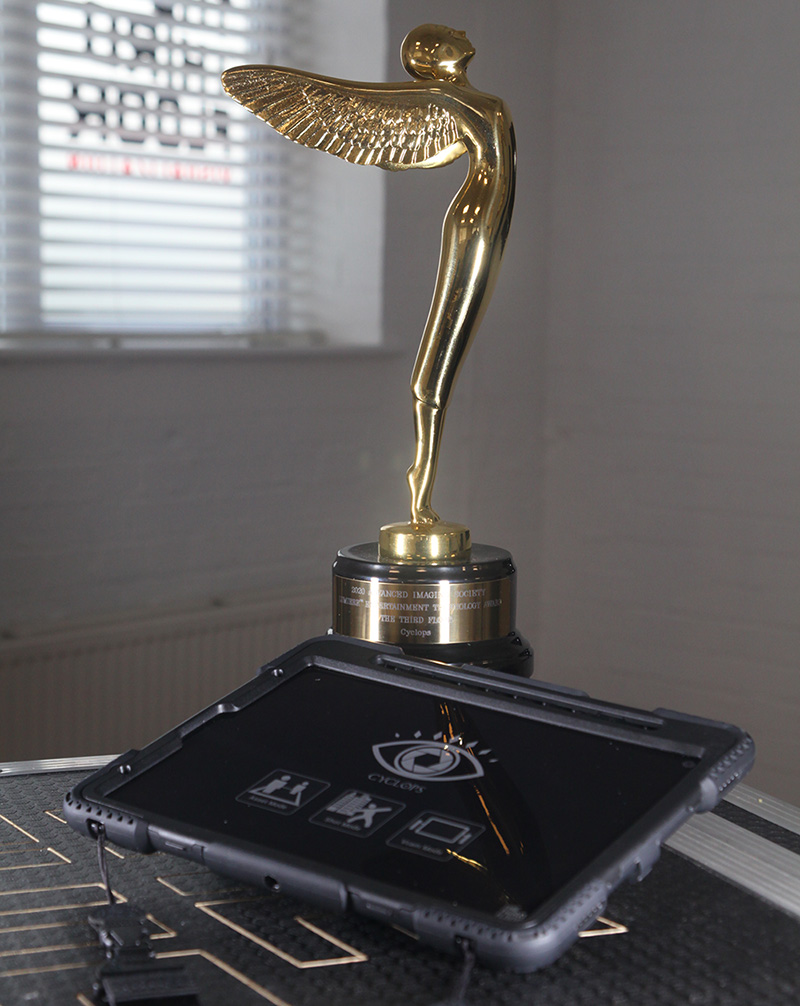 Sign up for the public beta or request a demo
We now have a public beta of Cyclops.  Sign up now to get access to download the beta.
We're excited to be doing In-person demos again in London, Los Angeles, & Atlanta.  Not in one of those places, we can do Virtual Demos anywhere.

We are the world's leading real-time visualization studio. We use the virtual world to imagine, plan and problem solve for stories in film, television, games, VR and themed attractions.