Cyclops v5.2 - Public Beta
"We are excited to announce the release of Cyclops 5.2 as a Public Beta. This gives you the opportunity to explore all the amazing features and tools that Cyclops has to offer. Cyclops was designed to be a quick and easy tool that crew in all departments can use anywhere. The Public Beta enables you to witness firsthand the power of Cyclops. Download the app, sample content, and get started with Cyclops in no time.

While our tutorials have not yet been updated to this new version, we encourage you to take advantage of this opportunity to challenge yourself and discover what Cyclops can do for you."
Device Requirements & Recommendations
Cyclops can run on any iOS device from 2019 onwards.    Cyclops is a professional app and will perform better on newer devices. For the best experience we recommend an iPad Pro. 
iPad or iPhone from 2019 onwards. 
iOS 16 or iPadOS 16
iOS Hardware:
We recommend iPhone Pro & iPad Pros for Cyclops.  The Pro models feature a LiDAR sensor which allows for Cyclops to create holdout geometry on-the-fly.  It also offers superior tracking and ground detection.  Additionally, the Pros have more RAM memory which is very important for being able to open large scenes in Cyclops.   If you are just placing assets with Cyclops then a non-Pro device should be sufficient, however, we recommend devices with an A12 or better processor.
iPhone vs iPad
We designed Cyclops with the screensize of the iPad in mind.  Cyclops works on an iPhone, but does feel a little crampped.   We recommend that if you are planning to use Cyclops in a production situation, on location, or on-set, you'll have a better experience with an iPad.  
However, the one advantage of an iPhone is that its camera has a wider field of view.  This allows you to match the FOV of wider cinema lenses.
Cellular/Mobile 
Cyclops uses GPS to help with alignment.  Unfortunately, iPads that are not capable of cellular/mobile are missing the GPS chip.  We recommend using a cellular/mobile capable iPad.  Thankfully, you don't actually need to have a sim-card in the iPad for it to be able to use the GPS.   As long your iPad has the cellular/mobile feature the GPS will work properly.   This is not a concern on an iPhone as they all have the GPS chip.
Active Data Connection
For the most part, you can use Cyclops without an active data connection to the internet.  However, there are a few things that require internet access:
Downloading new content to Cyclops.  Once the content is downloaded and stored on your device, you do not need to be connected.
The World Anchoring System requires the internet to load and save World Anchors. 
Help menu buttons open internet pages to retrieve the help content.
Settings > Privacy > Location Services: On (if this is not turned on, Cyclops will crash)
Settings > Display & Brightness > True Tone: Off

Settings > Display & Brightness > Auto-Lock: Off or as long as you can make it.

Settings > Accessibility > Display & Text > Auto-Brightness: Off
Getting the Cyclops Public Demo is just 4 simple steps.  
In order to get the Public Beta of Cyclops, you must first download the Apple TestFlight App from the App Store.  TestFlight is an app from Apple for developers to use to distribute apps for testing. Click the link below on your device to go to the App Store. https://itunes.apple.com/us/app/testflight/id899247664?mt=8
Click on the Public Beta link below from your iOS device or you can scan the QR to the left from your iOS device. The link should open TestFlight and you should see Cyclops in there.
https://testflight.apple.com/join/vyVSuXYd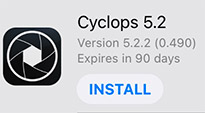 Click on INSTALL button below the Cyclops app in TestFlight. Cyclops should now start downloading and will show up on your Home Screen next to your other apps.

4) Click the Cyclops Icon
Now just tap the Cyclops icon on your Home Screen to launch Cyclops.
We've tried to make Cyclops as easy to use as possible.  Here are a few steps to get you up and using it as fast as possible.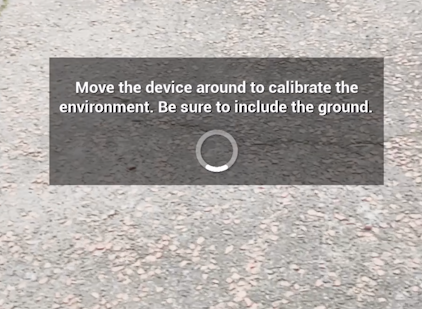 When you first launch Cyclops the app will ask you to move your device around while looking at the ground so that it can calibrate to the environment.  Walking forward or to the left or right will help it calibrate. As Cyclops calibrates you should see a green grid on the ground.  Once Cyclops has calibrated the message will disappear and Cyclops is ready to use.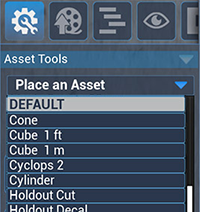 Open the tool drawer on the left side of the screen.  You should see the asset tools.  Use the Place an Asset pulldown menu at the top to select the asset you wish to add to the scene.

After you have selected the asset you wish to add you then need to use the Place Asset tool to place the asset in the world.  Select the Place Asset tool and then tap anywhere on the green ground plane to place the asset.

Now that you have placed an asset you can use the Drag tool to drag the asset around the world with your finger.  Select the Drag tool and then touch the asset on the screen and drag the asset around the screen with your finger.  
There are a lot more asset tools in Cyclops.  Check out the video tutorials below to learn about them all.
We've created a series of over 12 tutorials to help you learn all that Cyclops can do.  We heavily recommend taking the time to go through them all.  There are some complex concepts in Cyclops that are important to understand to get the most out of the app.
Cyclops 5.2 features a new UI.  Unfortunately, we are still working on updating all the videos to reflect the new UI.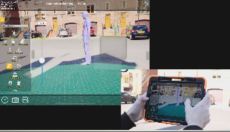 This video will get you up and running in Cyclops in less than 2 minutes. Get a quick overview of Asset mode. See how to place assets in the world and move them around, and more.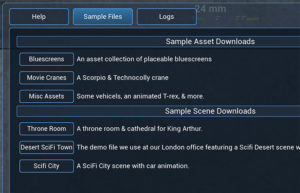 There is not much you can do with Cyclops without some assets and scenes.  We have provided some Sample Content for you to test out in Cyclops.  Go to the Help Menu, and then select Sample Files.  From there you can directly download Sample Models and Scenes to Cyclops.
The Sample Assets will automatically show up in the Place Asset pulldown menu. 
Sample Scenes will show up in the Load Scene pulldown menu.  (you need to be in Scene Mode)
Note: We only use this method for demo content.  Client show content is distributed through our secure content delivery system.
One of Cyclop's main features is that all you need is an iOS device.  This means you can use it whenever and wherever you want. However, if you plan to use Cyclops all day while on-set, then it is beneficial to have a few accessories.
Battery
Cyclops is power-hungry and can drain the internal iPad battery in less than 2 hours if running continuously.  We recommend having 1-2 USB batteries on hand to avoid issues.  We recommend batteries that can do at least 18W and deliver at least 5V/3A or 9V/2A in at least 20000mAh capacity.
Case
We recommend using a rugged rubber drop-proof case with a shoulder strap like these from Amazon. We sometimes use the hand strap to hold a USB battery.
US: https://www.amazon.com/dp/B08NVQDPB5/ref=cm_sw_em_r_mt_dp_KGD3VSQB445D18DXYFD9
UK: https://www.amazon.co.uk/dp/B08LKKCZ4T/ref=cm_sw_em_r_mt_dp_DAZRCQF9TF3D34WK8992
These are examples only, please check that any case is compatible with your device before ordering.
Cage
Some folks have found that having the iPad in a professional camera-type "cage" case with handles makes sit easier to handle while on-set.  We recommend this one from SmallRig
https://www.smallrig.com/smallrig-ipad-tablet-cage-md2979.html
Note: Handles are sold separately and you can also get a battery holder for it.
Screen Protector
If you will be using the iPad outdoors we recommend you get an Anti-glare filter/screen protector for your iPad.  This will help eliminate glare on the screen.
Controllers
Game-style controllers are very useful when using Cyclops as a Vcam or virtual scouting.  However, we generally don't use controllers when using Cyclops on-set or location.  Cyclops supports any MFi-compliant controller.  Below is a partial list of controllers that will work with Cyclops:
Razer Kishi
Gamevice
Xbox
Nintendo Joy-Cons (iOS/iPadOS 16 only)
Want to Know More or Need a License
Want to know more about how Cyclops can be a valuable tool for visualizing VFX assets and set-top-ups?  Have more questions about how to use Cyclops.  Want to schedule a demo?  Want to know pricing information? Ready to use Cyclops on your next project.  Have some feedback to make Cyclops better.  Then please get in touch with us:
End User License Agreement
This Beta version of Cyclops is provided for testing purposes only.   You are allowed to try it out and send us feedback.  You are not allowed to use this Beta version professionally on a real show other than as a limited test.  This Beta is for a limited time.  We reserve the right to deactivate this Beta version at any time.   When we deactivate the Beta the app will immediately cease to function on your device.
If you would like to use Cyclops professionally or would like a longer-term demo period, please get in touch with us via the form above to get a proper license.